Magnetic Photo Notepad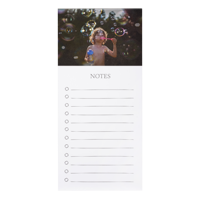 Add your favorite photo to personalize this 40 page Magnetic Notepad. Printed on 80 lb paper, this 4.25" x 9" notepad has a chipboard backer with magnet for ease of hanging on your fridge or file cabinet.
$9.99
Photo Notepad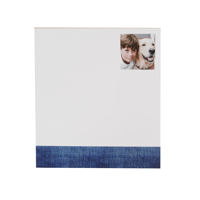 Taking notes just got more fun! Add a photo to personalize this Photo Notepad. Printed on FSC-certified paper, this 5.5" x 6" notepad has a hard cardboard backing and 50 single-sided tear away pages.
$17.99
Magnetic Photo Notepad

Add your favorite photo to personalize this 40 page Magnetic Notepad. Printed on 80 lb paper, this 4.25" x 9" notepad has a chipboard backer with magnet for ease of hanging on your fridge or file cabinet.

$9.99

Photo Notepad

Taking notes just got more fun! Add a photo to personalize this Photo Notepad. Printed on FSC-certified paper, this 5.5" x 6" notepad has a hard cardboard backing and 50 single-sided tear away pages.

$17.99