$100 Archiving Gift Card ($75 E-DEAL)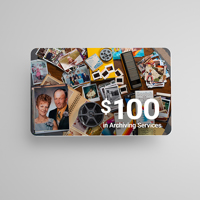 E-DEAL SALE: Purchase a $100 Gift Card for just $75!



Give the gift of digitized family memories!

Turn analog photographs, scrapbooks, video tapes, home movies, slides, negatives, documents and other memorabilia into modern day digital formats that can be viewed and shared on any device! Perfect for helping in-laws, parents, grandparents, and siblings archive and relive their youth on today's tech!
$75.00
$100 Archiving Gift Card ($75 E-DEAL)

E-DEAL SALE: Purchase a $100 Gift Card for just $75!



Give the gift of digitized family memories!

Turn analog photographs, scrapbooks, video tapes, home movies, slides, negatives, documents and other memorabilia into modern day digital formats that can be viewed and shared on any device! Perfect for helping in-laws, parents, grandparents, and siblings archive and relive their youth on today's tech!

$75.00